ELECTRIFY YOUR STRINGS CONCERT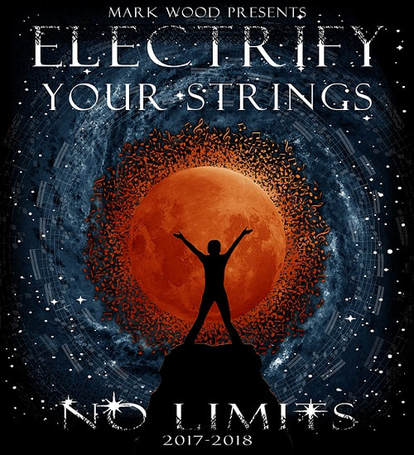 What do the Trans-Siberian Orchestra, the Brecksville-Broadview Heights School District, and March 3rd have in common? The answer is: a super-hot music education program called, "Electrify Your Strings", which will take the stage in early March featuring nearly 200 kids rocking out with violin in hand. In a district where athletics traditionally take center stage, the tables have turned to shine the spotlight on the arts. "We really appreciate the support the district has provided to help bring this program to life. By doing so, they are giving our kids the pat on the back they've earned as musicians," said Jennifer O'Neal, MS Orchestra director.

"Electrify Your Strings" was created by Grammy award-winning musician, Mark Wood, a founding member of the internationally acclaimed Trans-Siberian Orchestra. That same style of revved up music will be taught in a supercharged 2-day workshop to the Brecksville-Broadview Heights Middle and High School orchestra students. The instruction by Mark Wood will culminate into an intensely "electrifying" rock concert, open to the community. As a gift to the school, Royalton Music will be donating a 4-string Electric Stingray Violin, designed by Mark Wood, which will be raffled off that very evening.

The Middle School and High School will perform on March 3rd at 6pm. Tickets are $15.
Raffle tickets can be purchased at the event for $3 each or 4 for $10. This event is expected to sell out.
Program will be:
1) MIDDLE SCHOOL COMBINED
2) CONCERT STRINGS (Concert & String combined)
3) CHAMBER ORCHESTRA
4) COMBINED FINALE
---
ELECTRIFY YOUR STRINGS T-SHIRT ORDERING
ELECTRIFY YOUR STRINGS REHEARSAL INFO

FRIDAY
3:00 to 4:30 MS Orchestra: Hunters of Avatar, Sunshine, Crazy Train
5:30 to 6:30 Concert Strings: Anyway you Want It, Beat It, Carry On
6:30 to 7:30 DINNER
7:30 to 9:00 Chamber: Synchronicity II, Spoon Man, Durga, Lumino City

SATURDAY
9:00 to 10:00 Hoe Down
10:00 to 10:30 Talk time and perform for the students
10:30 to 12:00 RUN SHOW

CALL TIME: 5:20
CONCERT STARTS @ 6:00 PM


2018-2019 Chamber Orchestra
Congratulations to the following students for being selected to Chamber Orchestra:
Carmen Bednarski - Violin
Nicole Flors- Violin
Victoria Goettel - Viola
Ethan Meilander- Violin
Kenzie Mournir - Viola
Solomia Semenyuk- Violin
Connor Van Epps - Cello
Micah Yee- Violin
Olivia Zukauckas - Viola
4th Annual Pancake Breakfast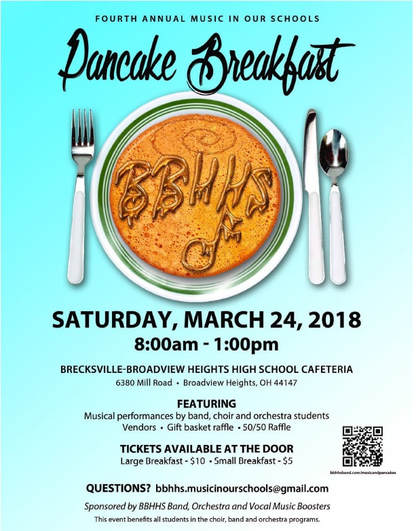 The BBHHS Music Boosters join forces to support our students' music education!
When:
Saturday, March 24, 2018 (8am-1pm)
Where:
BBHHS Cafeteria
What:
Musical performances by High School, Middle School and Central School musical ensembles
Raffle baskets & other exciting activities
Of course, pancake and sausage breakfast with beverages!
Cost: Large breakfast-$10,
Small breakfast-$5
Who:
Everyone and anyone is invited! Students, siblings, parents, grandparents, teachers, neighbors, friends, families – from within Brecksville and Broadview Hts. and communities afar!
WHY?
This event raises money for the choir, band and orchestra groups. March is Music in our Schools Month (MIOSM) sponsored by the National Association for Music Education (NAfME), to highlight quality music education programs in schools. This raised awareness involves educators, students, administrators, parents and community members celebrating creative music activities and advocacy.
Visit ​
http://www.bbhhsband.com/musicandpancakes/
for more details!
---
​
PROBOARDS

---
---
2017-2018 Orchestra T-Shirts
PARENTS: If you would like to purchase a 2017-2018 BBHHS Orchestra T-Shirt, you can purchase one below. The cost is $15 per shirt ($2.50 more for XXL).
---
Sign up for Remind.com message service
---
2017-2018 BBHHS Calendar